Keywords
preschoolers, health promotion, health education, motor activities
Introduction
Many studies have demonstrated that infancy and childhood are related to the health of the individual during his/her adult life. Researchers found that children's habits and attitudes towards nutrition, physical activity and hygiene during the early childhood have both short-term and long-term effects on their health [1,2].
With regard to nutrition, it was shown that unhealthy nutritional habits constitute a primary factor leading to obesity and other predispository factors for the manifestation of cardiovascular diseases [3]. Today, children's obesity tends to take epidemic dimensions. It is the most frequent children's "disease" with ongoing increasing tendency [4]. In countries of the western world, the percentage of obese children is today higher than ever before, while in Greece children's obesity has shown more increase than in adults [5]. This phenomenon is particularly worrying taking into account results of trials according to which obese children are more likely to become obese adults [6] and obesity during adulthood is correlated to the manifestation of severe diseases (cardiovascular diseases, hypertension, type 2 diabetes) [7]. That is exactly why obesity has to be treated well ahead before it progresses to a chronic problem.
Today treatment strategies focus on prevention of obesity by promoting healthy nutrition and physical activity [8]. However, modern lifestyle with the automation of many activities has, on one hand, limited people's physical activities (walking, cycling) and, on the other hand, increased sedentary activities (videogames, television) [9]. It was found that the reduction of physical activity in young people occurred simultaneously with the rise in the use of computers [10] and television contributes to the increase of weight in children [11]. Studies have demonstrated that it is the family that plays the major role in children's nutritional habits [12] and that parents with their behavior can also affect their children's physical activity [13]. Therefore, today, several Institutions publish guides about how the parents can help their children in adopting healthy habits and recommend to parents to reduce their children's sedentary activities by limiting their occupying with television and videogames [14,15]. The child's benefits deriving from physical activity are not restricted only to prevention of obesity. Daily exercise contributes to developing strong bones, muscles and joints, prevents or delays increase of blood pressure, eases off stress and depression and enhances the child's learning capacity by exerting special impact on mental health [16].
In order to secure child's healthy development, having a healthy nutrition and maintaining a desirable level of physical exercise are not enough only by themselves. Following rules of hygiene is also required, so that the likelihood of kids getting sick is limited. It has been proven that frequent hand-washing is an effective way to protect children from infectious diseases, since spreading of diseases at school becomes limited in this way [17]. Regular teeth-brushing fights against caries/dental decay and chewing the food well prevents children from potential choking and also facilitates the process of digestion [18].
Some studies showed that unhealthy habits are related to low socio-economic level of family. Canadian studies reported that low-income families tended to consume fewer fruit and vegetable and more foods that are high in refined grains, added fats and sugare [19] and children with parents of low educational-economic level watch television more than children with parents of higher educational-economic level [20]. In Greece, a study about nutrition, physical activity and observance of hygiene rules showed that preschool children from downgraded areas eating more sweets, drinks more soft drinks and came behind in observance of hygiene rules, related to children from privileged areas [21].
From the above it becomes obvious that taking up habits of healthy nutrition, exercise and hygiene constitutes the main requirement for the child's healthy development and a guarantee for a healthy adulthood. The optimal time to teach nutrition, physical activities and hygiene rules is in the preschool years before unhealthy habits are established. Thus, in most developed countries health education is considered an essential element in the health care policies of all qualified preschool programs [22]. More specifically in Greece, health education begins in infancy with activities included in the programs of childcare centers and kindergartens [23,24].
The Early Childhood Care & Education Department of the Alexandrio Technological Educational Institute of Thessaloniki, in their effort to contribute to preschool health education, have implemented, in preschool centers [25], a program which is based on motor activities and games and aims at children teaching basic healthy habits. This program is part of the "Archimedes" Research Project (Ε.Π.Ε.Α.Ε.Κ., Action 2.2.3), co-funded by the European Union and the Greek Ministry of Education.
More specific objectives of the implemented program were identifying healthy habits related to nutrition, physical activity and personal hygiene. The results of the program are described in the present study.
Method and material
Participants: 125 children, aged 4 to 5 years, participated in the present study. Children attended six preschool centers, randomly selected, in the area of Thessaloniki (Northern Greece). Two of these centers were from the western part of Thessaloniki (downgraded areas) and four centers were from the eastern part of the town (privileged areas). The sample consisted of children of the same nationality. All children participated with parental consent.
The final data were collected only for children who participated in all the lessons of the health education program (118 children).
Measures: In order to evaluate the children's knowledge about healthy behavior a protocol was constructed with pictures for preschool aged children. This evaluation method has been proposed by many evaluation tests addressed to this age [26,27]. The pictures of this protocol, selected from a children's encyclopedia [28,29], were divided into three categories. They presented the most representative habits of preschoolers with regard to their nutrition, physical activity and hygiene rules.
The protocol was composed of 15 pictures depicting healthy and unhealthy habits, which children had to place on two sheets accordingly. The healthy-habit pictures corresponded to the sheet with the smiling face symbol, whereas the unhealthy-habit pictures corresponded to the sheet with the sad face symbol. The "nutrition" category included five pictures, three of them pictured healthy food (milk, fish, fruit) and the other two pictured unhealthy food (sweats, ice-cream). Out of the five "physical activity" pictures, three were related to motor activities (playing with a ball, skipping a rope, riding a bicycle), and the other two pictures were related to sedentary activities (playing videogames, watching TV). Lastly, out of the five "hygiene rules" pictures, three pictured hygiene rules (washing hands, brushing teeth, eating at the table), while the other two pictured non-hygiene rules (hasty swallowing/devouring, dirty hands).
To make sure that these pictures were easily understandable for preschoolers, the protocol was applied to 25 children of the same age, before its actual usage. Its reliability was also tested, since the protocol was given to the same children two weeks after the first measurement. The reliability coefficients were high, ranging from .922 to .971 (.922, .944 and .971 for the categories nutrition, physical activity and hygiene rules respectively).
The initial data collection took place during the last week of February 2005 and the final data collection during the second week of May 2005. The program was implemented on March and April and included 18 lectures of 35-40 minutes each given twice a week.
Results
The sample studied consisted of 118 children, who participated in all the lessons of the health education program (Table 1).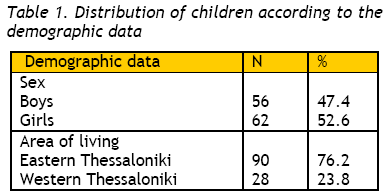 The knowledge of children about healthy and unhealthy habits (nutrition, physical activity, hygiene) was evaluated before and after the implementation of the program. The whole evaluation process was conducted in the indoor multipurpose room of preschool centers. Educators asked children to place the pictures that represented what they should do on the smiling-face sheet and, likewise, to place the pictures that represented what they should not do on the sad-face sheet. Educators gave the pictures to each child in three times phases: the five "nutrition" pictures were given firstly, then the five "physical activity" pictures and finally the five "hygiene rule" pictures. Every right answer was scored with "1", while the wrong answers didn't receive any scoring point. ANOVA analysis was used in order to find out if children's knowledge was related to the area of living and to their sex.
The results of the present study showed that before the implementation of the program the level of children's knowledge about healthy and unhealthy habits was lower (Table 2). Specifically the children from downgraded areas had significantly lower scores than children from privileged areas on nutrition (F= 7.84, p<0.01) and on physical activity (F= 5.76, p<0.05) (Figure 1).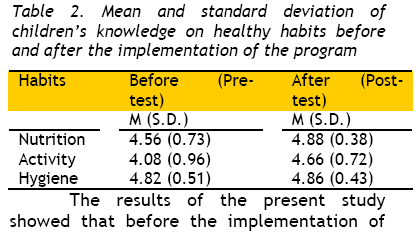 After the implementation of program, our results showed that children's knowledge about healthy and unhealthy habits was higher, specifically the scores were significantly higher on nutrition (F= 21.77, p=0.00) and on physical activity (F= 32.27, p=0.00) but not significantly on hygiene (F= 6.53, p=0.46). The attendance of innovative program was of more benefit to children of downgraded areas who had significantly higher scores than the other children on physical activity (F= 6.61, p<0.05) and on hygiene (F= 3.95, p<0.05) (Figure 2).
However no significant relation was found between the sex and the scores of children in the recognition (knowledge) of healthy/unhealthy foods, physical activities and hygiene rules neither before nor after the program attendance.
Discussion
In our technocratic era, health education is a basic element for the health policy of countries and belongs to the primary preventive measures enacted by the State.30 According to Bloom & Gullotta [31] the primary preventive measures include actions which assist or facilitate the participants to help themselves: a) to prevent predictable and expected problems, b) to protect their health and ability to function normally and c) to enhance the psychological mood of specific population groups. More particularly health education focuses not so much on the disease, but mostly on promoting the feeling of well-being. It is provided to individuals, groups and big populations with the aim mainly of increasing the ability, self-esteem and well-being of people and to a less extent intervening for the prevention of psychological/ social problems and mental disorders [32]. In order to achieve the goals above, the countries applicate numerous strategies. The focus of children in these strategies is supportive environments and the provision of quality preschool education [33].
Greece, in the context of promoting its citizens' health, implements health education programs. Health programs for preschoolers generally focus on developing the children's sense of responsibility for their personal health and safety [24]. The primary condition for the development of this emotion is the knowledge of health habits. Therefore, in the classes of preschoolers (3-6 years old) activities are used with a view to teaching these kids the basic habits of hygiene and more specifically to help them: a)realize the significance of healthy nutrition, rules of hygiene and physical exercise for the preservation and promotion of health, b)learn the basic rules of hygiene (washing hands, brushing teeth etc), c)discriminate between healthy and harmful food and substances (fruit, sweets, nicotine in the cigarette etc), d) realize the value of medications in our life, e) learn about some health services and their role (hospital, dentist etc) and f) be informed about risks in the close environment (fire, earthquake, flood etc) and learn how to protect themselves.
Our program's results suggest that preschool education programs based on motor activities and games can attribute to achieving the goals above. Specifically, it was showed that, after the attendance of the program, the children had higher scores in identifying healthy/unhealthy foods and physical activities. These findings expand findings of researches showed that nutrition intervention targeting preschoolers should be play-based and focused on positive messages [34].
Moreover our observation that the children of downgraded areas had higher knowledge than children of privileged areas after attending the program suggest that appropriate organized programs can help the less socially benefited children to cover the inadequacy they had in identifying healthy and unhealthy living habits. The above results are in line with findings deriving from the implementation of other preschool educational programs (Sesame Street, Mister Rogers' Neighborhood), according to which interventional programs, depending on their content, cultivate specific skills and are effective in children who run the risk not to develop them because of the negative effect of social or biological factors [35].
The modern way of life, in relation with the consumption of unhealthy foods and limited physical conceals risks for the citizen's health and the countries' economy [36]. Experience in EU and USA showed that programs of immediate interference, especially those referred to disadvantaged children, can bring positive socio-economic benefits of large scale, including health. On the contrary, lack of investment in little children's education implies significantly higher corrective costs in later stages of life, a fact that can cause high costs for social policies (health, unemployment etc.) [37]. Special care is required for the health education of citizens and particularly of children who live in downgraded areas, where very often the unfavorable family environment is accompanied with a burdened natural environment and, as a result, the likelihood of manifesting health problems increases [38]. The implementation of qualitative pre-school education in all areas and especially in downgraded areas can reduce the socio-economic discrepancies in health and support the economy with the prevention of corrective costs for the health.
Limitations of the research
Preschoolers know the rules of healthy living through experience and teaching. The present study concerns the teaching of healthy foods, physical activities and hygiene rules to Greek children aged 4-5 years. Our findings provide initial support that suggests health education programs based on motor activities and games are succesful for preschoolers. Future research in this area would benefit by addressing some of the limitations of this study. Serious limitation of the present study is the limited sample. In the future we hope to study a much bigger population. Moreover future studies in which, during the program's implementation in school children's behavior will be examined, as well, will be able to lead to a more precise evaluation of contribution of preschool health education programs in the healthy habits development. The collaboration of school and family for the preschoolers' health programs should also be examined. The implementation of health programs in preschools together with the parent's information and collaboration would lead to findings-proposals for the organization of programs, through which the knowledge of healthy living would improve children's health behaviors. We hope that, in future, there will be more studies with the goals above.
Bibliography